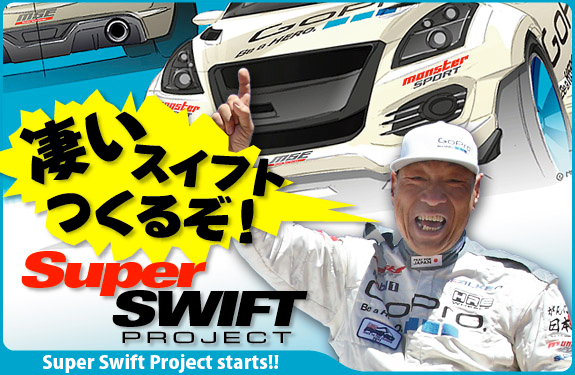 Super Swift project starts! Monster Tajima talks about his thoughts to this new project…

On October 7th, at the '5th MEGA WEB FESTA in Odaiba Gakuensai 2012' I had a talk show with race driver Morizo, and he enthusiastically spoke about how he wanted more people to realize how fascinating cars can be.
When I thought that I would like to openly share 55 years of my experience and expertise, I thought of America's great super star driver, Ken Block.
I want Japan to cheer up and regain its energy again. Japan has much to learn about automotive culture. So, inspired by Ken Block's performance, I wanted to build a car that could be a worthy contender and show it to the world. That is why I am going to fully throw in all the technical expertise gained from racing at WRC and Pikes Peak. I wanted as much people to feel the connection by basing this "super machine" with a commercially available car. That is, the Monster Sports Super Swift."


Let's take a look what great machines the Monster built!
910 Blue Bird 4WD Nickname"Choro-Q (Penny Racer)"

This is the machine that made the Monster known as the "Monster" as he swept through Dirt Trials in the 1980s. The front and rear over hangs had been removed and converted into 4 wheel drive… You just can't see the resemblance, can you?
By the way, this was the original car.↓

Fair Lady Z (Z31)

In 1985, Monster Tajima raced at SCCA Pro Rally Open Class held in the USA. He pulled out the 4WD system from a Datsun truck and fitted the car's body with fiber reinforced plastic. The combination of the total weight being a bit more than a ton, with a V6 turbo engine roaring at 300ps, this was truly a MONSTER!

Twin Engine Cultus

Two 1.6L engines producing 400ps each, on a pipe frame. No, you heard me right. That's a total of 800ps! After entering the Pikes Peak in 1989 for the first time, the machine constantly underwent major revisions. As a result, in 1993 it won 2nd place for overall win. Monster Tajima's unprecedented monster-ness, thundered through out the world.

Twin Engine Escudo

If you combine Twin Engines producing 900ps, and a body that weighs only 900kg . . . You get acceleration that surpasses Formula 1 machines! With this, an overall win at Pikes Peak in 1995. The Monster climbs to the top of the world!

SX4 Pikes Peak Special

The Super Machine that established the 6 consecutive overall wins of 2006-2011. The engine's total output was "tamed" at 910ps to focus on drivability, namely the torque and response performance. The whole machine launched into 200km/h at a blink of an eye. As a dirt road racer, this machine is the world's fastest. With the establishment of the 2011 World Record, Monster Tajima's name had once again thundered all over the world.

[Bonus Feature] Escudo Pikes Peak from Gran Turismo

1000hp, and a top speed over 350km/h. The bonus car from that popular game? I'm sure everyone has driven the crazy machine at least once! With some custom settings, they say the car could . . . fly? Nevertheless, its spirit is without a doubt, Monster Tajima's.
What will the next Monster be like???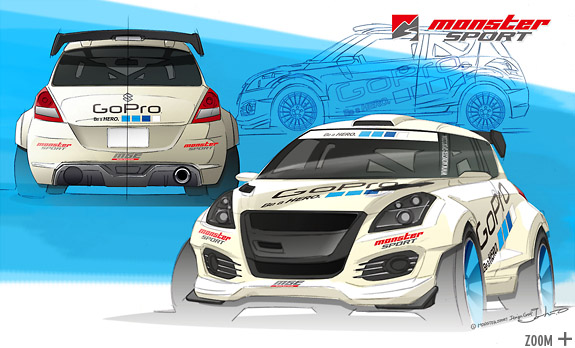 We are building it right now! Just wait and see!!