@  Tajima's Talk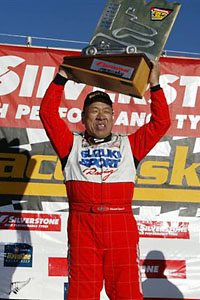 Thanks to everybody around the world, I have won Race to the Sky 2005. It is 3 wins in a row and it will be my sixth win in this race.
It was not an easy race though. Bad weather, trouble with machine, and very difficult tyre set up. Very exhausted now!
Today again from morning heavy fog covered the view. It came to my mind that it will be difficult to make new record... but fortunately, it became clear as it reaches noon time. The course became dry and dry.
My rival this year was of course Rod Millen from U.S.A. and Kenneth Eriksson from Sweden who brought tuned Subaru World Rally Car! Not only that, from home town New Zealand, Andrew Hawkeswood driving pipe frame 800 horse power Lancer is also strong competitor.
In the morning qualify, my machine had mechanical problem. The engine stopped and could not start. I had to be pulled into the pit. The machine has been checked and found out that the kill switch was broken and looms were jammed. Adding to that, the anti roll bar was damaged do to the rough gravel.
The mechanics had fixed it quickly in order to make it on time for the race, but then the clutch failed! It won't cut. Luckily, since my machine had Hewland dog gearbox which doesn't need to use the clutch while running so I didn't suffer so much from this trouble.
I also had to make grooving on tyres. It was very busy until I get to the start line, but I managed to run, and achieve the win! It was pity that I couldnft break my own record of 8 min. 10 sec. 02 by just 0.8 sec! Still, win is a win and not a bad time in this weather, so I am very satisfied.
Next year, I will try to beat my record and more over, break the 8 minutes barrier!
Once again, thank you very much.
@From Queenstown, New Zealand
@Nobuhiro "Monster" Tajima


2nd qualifying
1
Kenneth Eriksson
8:33.3567
2
Marty Roestenburg
8:44.4124
3
Ian Ffitch
8:44.6374
4
Andrew Hawkeswood
8:55.7753
5
Graeme Giles
9:05.9123
:
12
Nobuhiro Tajima
9:23.3679





Final run : Overall Results
1
Nobuhiro Tajima
8:10.8446
2
Kenneth Eriksson
8:22.5359
3
Andrew Hawkeswood
8:31.5599
4
Rod Millen
8:32.9914
5
Marty Roestenburg
8:40.1735
6
Ian Ffitch
8:41.3620