DRIVER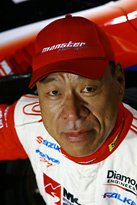 Nobuhiro "MONSTER" Tajima
Birthday : 28th June 1950
From his superb wild driving style, his nickname "Monster" was born.
In All Japan Dirt Trial(rally sprint) Championship, he has achieved 9 series wins. 1988, he has started competing on overseas event which is Pikes Peak International Hill Climb. In 1995, he has achieved overall win for the first time by the Japanese competitor. Also on New Zealand's "Race to the Sky", winning 8 times which now the mountain is called "Tajima's mountain". He has also entered overseas rallies, and especially on Asia Pacific Rally Championship, he has won 5 times in the 2WD division.
The history started on 1983, when he established Monster International Co., Ltd. to help out motor sport competitors. There, he has worked together with many motor sport enthusiasts. This contribution has been caught by the eyes of Suzuki Motor Corporation. In 1986, Suzuki Sport Co., Ltd. was established in order to become in charge of the automobile motor sport of Suzuki Motor Corporation. Suzuki Sport Co., Ltd. does the total research and development, manufacturing, and assemblying the competition vehicles.
From 2002, Junior World Rally Championship project has started and has become team principal achieving driver's champion on 2004. And now 2006, he has begun a new challenge, which is to enter the World Rally Championship together with Suzuki. He is busy being as team principal of the WRC project now.
But on 2007, he has come back to Pikes Peak again as a driver, and achived overall win. This year, he will am for record breaking time!
RACE CAR
The race car for 2010 is the " Monster Sport SX4 Hill Climb Special ". Based upon a Low drag and High down force concept developed for the 2009 event and following exhaustive tests in the Monster Sport (Japan) wind tunnel facility, the 2010 race car has undergone extensive aerodynamic changes to adapt better to the further modified road surface which now consists of more smooth tarmac and less gravel than was present in 2009. Monster Sport has also further developed the 3100cc Twin Turbo Monster Special V6 powerplant, now boasting 910hp and 90.5kg-m of torque in an 1100kg body able to accelerate easily to speeds above 200km/h in a matter of seconds.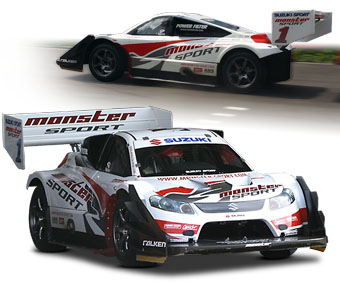 Specifications of 2010 Monster Sport SX4 Hill-climb Special

Base model

SUZUKI SX4

Frame

Steel space frame

Cowl

Carbon and Kevlar composite

Front wing & Rear wing

Carbon and Kevlar composite

Front:

Under wing

Rear:

Diffuser + 3 wings

Model

Monster Spl V6

Type

Liquid cooled V6 4 valves DOHC + 2 turbo, dry sump

Bore x stroke

92.0×77.0mm

Capacity

3071cc

Maximum horsepower(Net)

910ps/8750rpm

Maximum torque

90.5kg-m/5850rpm

ECU

MoTeC

Oil Filter

POWER FILTER Ti100

Sparking Plug

NGK Racing

Air Filter

POWER FILTER PFX600

Intercooler

ARC

Radiator

ARC

Gearbox

Sequential 6-speed

Differential

Front/Rear: Hydraulic Controlled ,
Center: Mechanical multi plate

Clutch

EXEDY Triple plate direct release

Suspension

Type

Front/Rear: Double wishbone

Dumper

Front/Rear: REIGER

Spring

Front/Rear: KING SPRINGS

Disc

Front: Dia.370mm ventilated / Rear: Dia.350mm ventilated

Caliper

Front: 8 pot / Rear: 8 pot

Pad/Facing

Front/Rear: Winmax Pikes Peak Special

Tire

Front/Rear: 285/50-20 FALKEN WILDPEAK

Wheel

Front/Rear: 20 x 11J RAYS VR.G2

Dimensions *Included front and rear wing

Length (Front wing <-> Rear wing)

5200mm

Width

1960mm

Height (Ground <-> Rear wing)

1580mm

Wheelbase

2818mm

Tread

Front: 1620mm / Rear: 1610mm

Race weight(without driver, fuel)

1100kg

Start weight

1,190kg

Weight distribution(with driver)

Front: 53 / Rear: 47