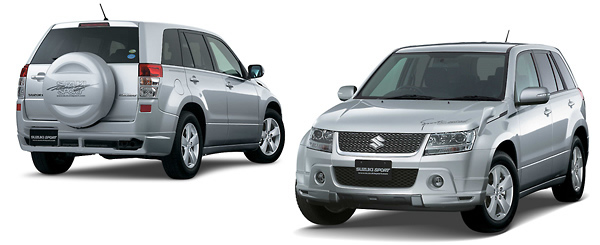 ESCUDE [GRAND VITARA]

PART NAME

PART NUMBER

PRICE
JPY

REMARKS

STORE

ALUMINIUM WHEELS

TYPE-SX, METAL

688100-5000

DISCONTINUED

 
EXTERIOR   

FRONT BUMPER SPOILER FRP

732100-5700

35,500

FRONT BUMPER SPOILER CARBON

733100-5700

47,500

RADIATOR GRILL, SILVER

797510-5700

66,000

RADIATOR GRILL, UNPAINTED 

797500-5700

38,000

SUSPENSION  

SPRING SET TD54W

520500-5700

40,000

SPRING SET TD94W

520500-5750

40,000

SHOCK ABSORBER SET

530500-5700
■CAUTION
*Application and model year which is shown on this list is based on Japan domestic market model. There maybe a possibility of not able to be fitted on to overseas market models.
*Since our product was developed for competition use, unless the product was different from the order or the condition of the product is not in good shape, we can not accept any claims on order to replace or pay back for the purchased merchandise. Also, in order to fit the parts, the manufacturer/dealer warrantee will may become invalid. Please contact your local dealer for further information.
*Becareful of fitting parts as it may violate the regulation of using them on public roads on each different country.
*Additional cost will be added to the product price. (Packaging, handling charge, custome clearance charge, etc.)
*The parts specification and price may vary without prior notification.
*Basically we do not have guarantee or do not accept claims since all the products are motorsport parts.
*Product prices are indicated in Japanese Yen.