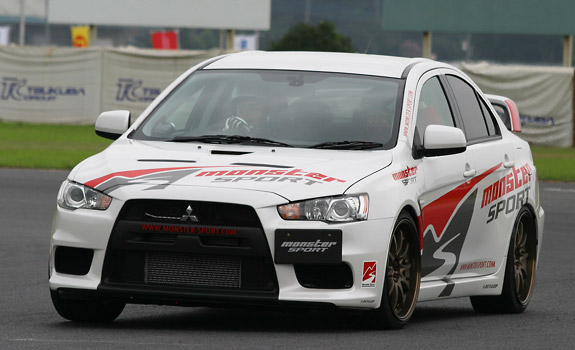 Lancer Evo.X
PART NAME
PART NUMBER
PRICE JPY
REMARKS

STORE

EXHAUST
Titanium Exhaust Muffler XT200
3PCB70
295,000
Tail pipe dia: 101.6mm

Titanium exhaust muffler XT100
3PCB80

DISCONTINUED

Tail pipe dia: 100mm, 94db
Front pipe
3PCC10
38,000
Pipe dia: 70mm, SUS304

INTAKE
Titanium exhaust manifold plate
3PCS20
25,000

Air filter [Dry type]
MD10
5,500
Power filter

PFX300 intake kit
3PBP20
38,000
Carbon intake duct and Air filter [Dry type]

Super intake kit 300
3PSP20
75,000
PFX300 intake kit[3PBP20] + Carbon intake shroud[3PMA50]

Suction pipe kit
3PBG40
44,000

High flow bypass pipe [Red]
3PBJ10
19,000

High flow bypass pipe [Buff]
3PBJ20
19,000

COOLING
Inter cooler pipe kit
3PBH51
80,000

Carbon intake shroud
3PMA50
47,000

Reinforced oil thermo valve
3MEP10
7,500

FRP oil cooler duct
3PQC01
22,000

Carbon oil cooler duct
3PQC02
30,000

Silicon radiator hose set
3PEH10
24,000

Radiator cap
ZZEC10
2,800
1.3bar

ECU
Full range computer set
-
Contact us
JDM model only

ENGINE
High flow camshaft
3PAC10
85,000
In and Ex Set, Requirement: Full range ECU [JDM only]

Oil Sensor Adapter
3PFB10
9,400

Reinforced valve spring set
3PAG10
19,000
>>DETAIL

INTERIOR & ACCESSORY
Oil filler cap
[Duracon Black]
3PFC10
6,500

Oil filler cap
[Red alumite]
3PFC30
6,500

Oil filler cap
[Buff]
3PFC40
7,500

Pillar meter shroud
[FRP]
3PPM15
16,000
Dia 60mm, RHD only

Pillar meter shroud
[FRP Gray]
3PPM25
13,000
Dia 60mm, RHD only

Pillar meter shroud [Carbon]
3PPM65
19,000
Dia 60mm, RHD only

Heptagon wheel nut
ZZTN50-20
10,000
20pcs set, M12×P1.5 L32
■CAUTION
*Application and model year which is shown on this list is based on Japan domestic market model. There maybe a possibility of not able to be fitted on to overseas market models.
*Since our product was developed for competition use, unless the product was different from the order or the condition of the product is not in good shape, we can not accept any claims on order to replace or pay back for the purchased merchandise. Also, in order to fit the parts, the manufacturer/dealer warrantee will may become invalid. Please contact your local dealer for further information.
*Becareful of fitting parts as it may violate the regulation of using them on public roads on each different country.
*Additional cost will be added to the product price. (Packaging, handling charge, custome clearance charge, etc.)
*The parts specification and price may vary without prior notification.
*Basically we do not have guarantee or do not accept claims since all the products are motorsport parts.
*Product prices are indicated in Japanese Yen.